Worcester County Parcel Data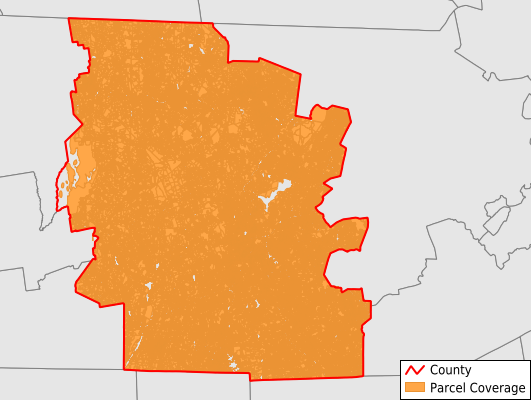 Total Parcels: 318,346 parcels
Last Updated: 2023-Q4
Recently Updated!
Total Population: 794,981
Worcester County FIPS Code: 25027
Would you like to download Worcester County gis parcel maps?
Parcel data and parcel GIS (Geographic Information Systems) layers are often an essential piece of many different projects and processes. With the help of our parcel viewer, many characteristics of real estate and mineral properties can be visualized and analyzed over an area of interest.
Dynamo Spatial's Pinpoint Parcels product is a first-class parcel layer containing deep data attributes about property valuations, legal descriptions, land ownership, service areas, census statistics, environmental conditions and much more. Through spatial analysis, parcel gis may also be used to increase the value of other reference layers, with methods such as intersection, proximity, buffer and overlay functions. Many industries already require the use of parcel maps on a daily basis and many more are beginning to discover the benefits that this added insight provides.
Each day we help companies find new efficiencies and money saving advantages by providing the highest quality parcel GIS with our fast and easy download process. We provide the parcel data in the ESRI Shapefile (.SHP file) gis format but we can also convert it into a number of industry standard formats for easy import into virtually any third-party software application. Examples include: ESRI ArcMap, LandWorks GIS, Quorum Land System, OGSYS, P2 Tobin Products, Autodesk Map, LandBoss, Enertia Products, GeoGraphix, Petra, ILandMan and more.
Attributes available in the Worcester County parcels download (ESRI Shapefile):
Parcel Id
Address
Owner Name
Trans Date
Sale Price
Building Area
Land Use (Code)
Land Use (Class)
Zoning
Acreage
Area Meters
Perimeter Meters
Municipality
School District
Zip Code
Fld Zone
Zone Subty
Census Tract
Census Blkgrp
Census Block
Total Market Value
Land Market Value
Building Market Value
Mail Address1
Mail Address3
Year Built
Style
Total Rooms
Buildings
Addr Sec Unit Num
Place Gnis Code
Land Cover
Elevation
Owner Occupied
Robust Id
Usps Residential
Crop Cover
Acreage Adjacent With Sameowner
Here are some of the industries that have found our parcel viewer to be an indispensable resource in their daily operations:
Government
Tax Appraisal and Assessment
Public Safety
Law Enforcement
Homeland Security
Telecommunications
Right of Way
Call Before You Dig
Asset Management
Meter Reading Services
Real Estate, Demographic Studies, Commercial
Owner Contact Information (Mailing Addresses)
Property Values
Legal Descriptions
Demographics Information
Assessment Information
Service Boundaries
School Districts
Aerial Imagery
Financial Institutions - Banks, Lenders, Finance Companies, Title Companies
Return on Investment Research
Tax Liability Calculations
Loan Processing
Collateral Value Estimation
Insurance - Flood Insurance, Fire Insurance
Flood Certification
Risk Assessment
Disaster Damage History
Underwriting Management
Property Tax Values